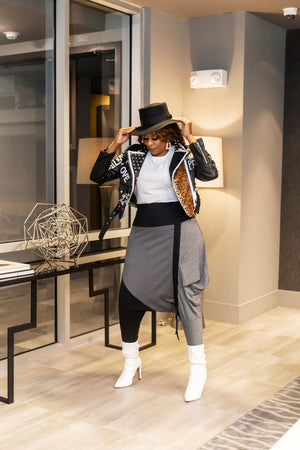 Show Out Harem | Pants
Sale price Price $64.99 Regular price
The secret to great style is to feel good in what you wear!
Getting dressed isn't just about putting on clothes, it's about how you feel - feeling comfortable, feeling confident and always feeling free.
Each new season brings an opportunity for us to not only embrace new goals and passions, but also let go of things that may be limiting us…including our style. Exquisite Figures Couture loves bringing you fresh designs to encourage you to try something new, mix things up or create a look that's UNIQUELY YOUR OWN!
Whether you consider your style conservative or edgy, professional or preppy, trendy or timeless, sporty or street style, Exquisite Figures Couture has a look for you. We offer stand out pieces that not only will compliment your style and personality, but also your curves.
What our Exquisite Figure chicks are saying...
I absolutely love Exquisite Figures. The clothes are quality and unique. I never have to worry about wearing the same pieces as someone else.
Don't take our word for it...
So happy to discover a boutique with out mass produced, generic styles. I love color, fun and classy looks and they've got it. Ms. Kanetra is super sweet, patient and helpful. Awesome store!
Exquisite Rewards!
Looking for something for someone special? A gift card to our store is the perfect idea!
shop now